News - December 2, 2015 Edition
"Sing along this year/Sing out loud and clear/'Cause Christmas time is near!"
The bouncy chorus from Wayward Wind Band member Fred Smith's "original Canadian Christmas song" reflects the exuberant spirit of Leisa Way's newest show, Have Yourself a Swinging Little Country Christmas.
Debuting at Upper Canada Playhouse until December 13, Way's 2015 production is all about singing, truly great singing, and some outstanding music. If you don't come out of this show beaming with renewed Christmas spirit, well, clearly, you have a little too much Grinch blood in your veins. (He's in Act II by the way.)
Have Yourself a Swinging Little Country Christmas was created by Leisa Way, a diminutive dynamo, whose vocal range is astounding. (Her delivery of O Holy Night is spectacular.)
Way is well known to Playhouse audiences. She has starred in sold out productions of Rhinestone Cowgirl: A Tribute to Patsy Cline, Country Jukebox and the Playhouse season opener, Oh Canada We Sing For Thee. This latest show is her celebration of the music that means Christmas to us all.
"We have a real mix of songs in our show," Way said, during an earlier interview with the Leader. "There is traditional music and carols, classic Christmas pieces, country, calypso, Celtic. It's all about reaching out to people. This is a show that makes you feel good."
The musical arrangements in the show are impressive.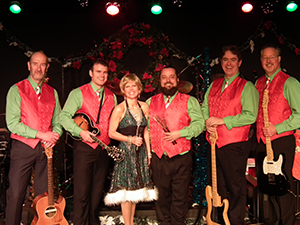 Bruce Ley, who also performs on the stage with the Band, is Way's long time arranger. His compositions are bright and clever, segueing seamlessly from one song to another, from one theme to another. Throughout the show, he celebrates the power of Way's voice, but also showcases the instrumental and vocal talents of each band member.
Nathan Smith, Bobby Prochaska, Fred Smith and Sam Cino are a collective musical power house.
By the end of the show, they make you wonder if there is any instrument they can't play, any song they can't sing. From an a cappella White Christmas to a boisterous rock version of Run, Rudolph, Run, the Band showed just how musically versatile they are.
This is a fun show.
Way knew Swinging Country Christmas would be performed for school audiences as well as adult audiences, and her approach reflects this.
The Grinch makes a guest appearance. So do Santa and Rudolph and Frosty. There are jokes and puns throughout ("What does Santa give naughty boys and girls? Batteries. With a message. Toys not included."). Talented young step dancers Caroline Taylor and Megan Fuller add a youthful zest to numbers like Christmas in Killarney.
There are also a couple of very special surprises in this production that particularly thrill local audiences.
At the heart of Have Yourself a Swinging Little Country Christmas, is, of course, Leisa Way. She finds just the right tone for songs as different as Baby, It's Cold Outside and Silent Night. Her enthusiasm is contagious. She really loves this music.
And, as Way says, at the end of Have Yourself A Swinging Little Country Christmas, "May the spirit of Christmas live in your heart long after the last Christmas present is unwrapped."
Contact Upper Canada Playhouse at 613-543-3713 for ticket information.
MORRISBURG