Christmas comes alive in Playhouse Mistletoe Magic
December 7, 2017 W. Gibb – Leader staff Entertainment
MORRISBURG – If holiday shopping, stresses and strains have you feeling just a little "Grinchy" this Christmas season, Upper Canada Playhouse is offering the perfect antidote.
Mistletoe Magic, a bubbly new holiday musical by Leisa Way, is guaranteed to bring a delicious dose of Christmas cheer into your heart.
The show is currently on stage at the Playhouse until December 17, with evening and matinee performances, and several scheduled student shows.
Leisa Way, star of hits like Rhinestone Cowgirl (Dolly Parton), Sweet Dreams (Patsy Cline), Country Jukeboxand Oh Canada, We Sing For Thee! (just back from a 28 city cross Canada tour), brings her own special brand of musical magic to Mistletoe Magic, her latest show.
The singer/actor/writer is accompanied in the Playhouse debut of the production by the omni-talented members of her Wayward Wind Band, Fred Smith, Nathan Smith, Bobby Prochaska, Sam Cino and Bruce Ley (who is also the musical director and arranger.)
Mistletoe Magic on stage appeals to both young and old. The production celebrates traditional songs of the season, but also introduces special songs from recent hit movies.
The beloved classic 'White Christmas' finds a place alongside the passion of 'Let It Go' from Frozen; Judy Garland's touching 'Have Yourself A Merry Little Christmas' shares the stage with the exuberant songs from Polar Express.
The combination of old and new, of classic and soon to be classic songs, high lights Way's Mistletoe Magic.
She even throws a little old fashioned country into the mixture just to add to the appeal.
Classic Dolly Parton songs, 'Hard Rock Candy Christmas' and 'Smoky Mountain Christmas' had the audience clapping and singing along. And Way's "Christmased up" version of '9 to 5' was pure country fun.
The production is a vehicle for Way's own incredible vocal versatility.
She can swing with 'Hawaiian Christmas' one moment, then deliver a beautiful Gordon Lightfoot song, 'This Winter Night With You', the next.
Mistletoe Magic also showcases the talents of the musicians of the Wayward Wind Band. Fred Smith on the guitar, Nathan Smith on the fiddle, Sam Cino on drums, Bobby Prochaska on bass and Bruce Ley on piano are powerhouses of musical energy.
And wait until you hear them sing. Whether harmonizing a cappella on 'Hark the Herald Angels Sing' or figuratively sitting round the kitchen table with Bill Monroe's 'Christmas Time's A Comin'', this Band really delivers. And if occasionally they are called on to be Linus, or a reindeer or a snowman, well, they can also rise to those challenges too.
Way has also brought some very special guests to this Christmas show. Step dancing in the grand Ottawa Valley tradition are two dynamic young performers, Caroline Taylor and Kelsey Warren.
Look for them in the exciting Polar Express medley.
Leisa's other special guest is a welcome figure from the past. Returning to the Playhouse stage in Mistletoe Magic, to thrill area audiences once again, is actor Doug Tangney. His touching delivery of 'Twas the Night Before Christmas' was deeply memorable. And as a bouncing Santa, just rocking the blues right out of 'Santa's Back in Town', Tangney literally tore the tinsel right off the tree.
Mistletoe Magic is full of comic asides, stunning costumes and breathtaking music.
If you aren't already in the spirit of the season, take in the musical energy and joy of Leisa Way's Mistletoe Magic at Upper Canada Playhouse, running until December 17.

Click here to read: Morrisburg Leader
Mistletoe Magic delivers Christmas to Eastern Ontario
Journal editor
Published: December 4, 2017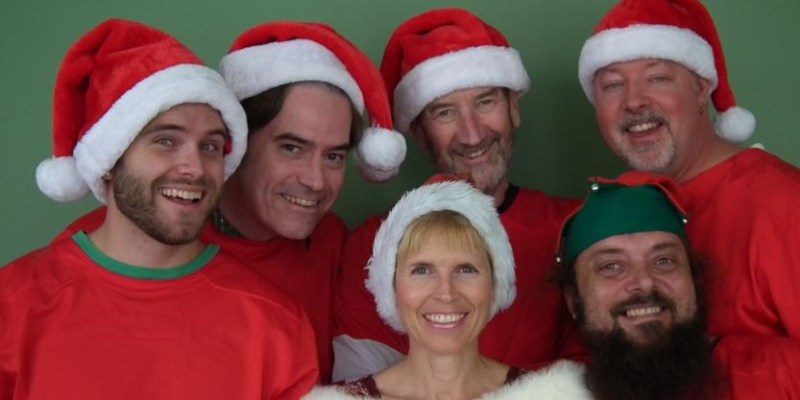 Mistletoe Magic delivers Christmas to Eastern Ontario
An entertainment editorial.
With temperatures holding above freezing and a void of ice and snow, it may not look like the December on the outside, but all the traditional trimmings of December are alive and well inside Morrisburg's Upper Canada Playhouse.
The Playhouse is closing out the 2017 season with Mistletoe Magic.
Billed as 'the sounds of the season', don't go expecting just another yuletide sing-along. The show delivers a unique combination of theatre and music that takes the audience on a wondrous journey from Rudolph to Frozen...with visits to a bevy of musical destinations in-between. It's a blend of memories, melodies, mayhem and merriment, from some good (and the occasional bad) jokes, performed by a cast of characters and some very special guests.
Above all, Mistletoe Magic delivers with the music. Leisa Way and The Wayward Wind Band own a variety of musical talent, offering up some exceptional and entertaining instrumentals, world-class harmonies...and a version of Hark! The Herald Angels Sing that could have been pulled directly from God's own songbook.
It's the kind of show that makes you look at your watch when you get back to the parking lot and wonder how two-and-a-half hours could have went by so quickly.
joe
Joe Martelle
Editor, Prescott Journal

Click here to read: Prescott Journal